Fiber Optic Cable
Technical graphics range from very simple to complex. This diagram shows laser light reflecting down the core of a fiber optic cable. Such glass fibers form the backbone of modern high-speed data networks. Make a long-distance call, and one of these beams of light is carrying your digitized voice.

Network Level Diagram
Cabling, managing, and effectively utilizing 4500 optical network fibers is no simple task. For maximum flexibility, the connectivity is organized in a 'level of abstraction' scheme, with Master, Intermediate and Local Distribution Frames where dyanamic interconnections can be made. These frames are called MDF, IDF and LDF, respectively.
In this diagram, you can see that most network nodes (black disk = networked computer) are attached to concentrators in their Local Distribution Frames, while a few connect directly, through jumpers in their LDF and IDF, to special network hardware in the main hub, the MDF. This allows flexible support of different protocols--Ethernet, FDDI, ATM--over the same basic array of fiber connections from any room in the entire Laboratory.
See also: Media Lab Network doc; Tech graphics for NVS Inc.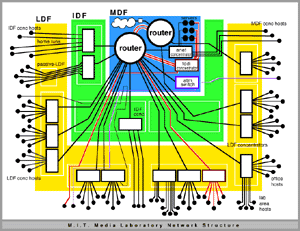 (Bigger GIF, 54k) [these documents used by permission]